Seniors: How to Keep Your Retirement Safe from Online Scams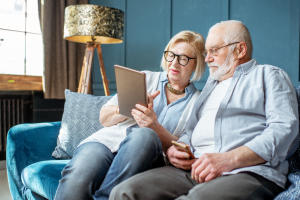 The growing number of internet crimes targeting senior adults is mind-blowing. 
In 2021, more than 92,000 people over the age of 60 reported losses of $1.7 billion, according to IC3, the FBI's Internet Crime division. That number reflects a 74 percent increase in losses from 2020.  
These numbers tell us a few things. They tell us that scamming the elderly is a multi-billion-dollar business for cybercriminals. It also tells us that regardless of how shoddy or obvious online scams may appear to anyone outside the senior community, they are working. 
However, information is power. Senior adults can protect their hard-earned retirement funds and government benefits by staying informed, adopting new behaviors, and putting tools in place designed to stop scammers in their tracks. And, when possible, family, friends, and caregivers can help. 
The FBI said confidence fraud and romance scams netted over $281 million in losses.  
The top four types of scams targeting seniors: Romance scams (confidence scams), fake online shopping, false utility representatives, and government agent imposters. Here's how to make a few shifts to mindset and your daily routine and steer clear of digital deception.   
5 Safeguards to Protect Your Retirement
Just as the seasons change in our lives, so too must our behaviors when connecting to people and information via our devices. Cybercriminals target older people because they assume they aren't as informed about schemes or technically savvy as younger people. Senior adults and their loved ones can work daily to change that narrative. With the right mindset, information, and tools, seniors can connect online with confidence and enjoy their golden years without worrying about digital deception.  
The post Seniors: How to Keep Your Retirement Safe from Online Scams appeared first on McAfee Blog.
Read more: Seniors: How to Keep Your Retirement Safe from Online Scams
Story added 2. June 2022, content source with full text you can find at link above.